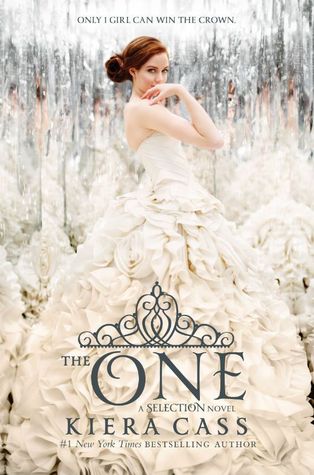 Synopsis
The Selection changed America Singer's life in ways she never could have imagined. Since she entered the competition to become the next princess of Illéa, America has struggled with her feelings for her first love, Aspen--and her growing attraction to Prince Maxon. Now she's made her choice . . . and she's prepared to fight for the future she wants.
Find out who America will choose in The One, the enchanting, beautifully romantic third book in the Selection series!
Review
What did I say about the previous two books? Addicting, that's what.
The book explores teenage angst, a never-ending triangle love, and lots of princess-y activities to win the heart of a prince. But what I appreciate about the finale is that it not only deals with that, it also has a rebellion plot and lots of other things.
Just when I feel that the book's moving too slowly (which it actually isn't, for one thing this book has in spades is pacing), the story picks up with a new sub-plot. We have task after task, challenge after challenge, that we watch America deals with. Just when I roll my eyes with the indecisiveness, we get scenes that are completely different they take me by surprise.
I personally like the rebellion plot. I wish it's been explored thoroughly, because the ending feels rushed. It almost feels like the author couldn't wait fast enough to finish and did not make necessary revisions to maximize the story. I am also sad that as readers, we don't get to see the rebellion in full volume, gory details and all, through America's eyes, because (spoiler) she was locked up in a room and did not get to see the action.
However, I did enjoy all three books, despite the cheesy dialogue and prim plot. I like America, and her fiery temper is enough to make me want to root for her, win or no win.
3.5 / 5 stars