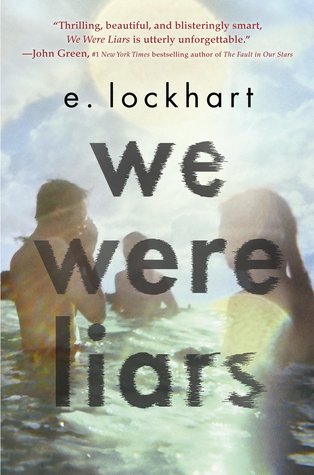 Synopsis:
A beautiful and distinguished family.
A private island.
A brilliant, damaged girl; a passionate, political boy.
A group of four friends—the Liars—whose friendship turns destructive.
A revolution. An accident. A secret.
Lies upon lies.
True love.
The truth.
We Were Liars is a modern, sophisticated suspense novel from National Book Award finalist and Printz Award honoree E. Lockhart.
Read it.
And if anyone asks you how it ends, just LIE.
Review:
This book receives so much love, and deservedly so.
Easily the best YA I've read in 2014, this tells the story of four teenagers from the wealthy family Sinclair in Massachucets. From the very start I am surprised by the tone of the book and the prose, which are so different from the Ruby Oliver books I used to read, and from the style that I associated with E. Lockhart. However, I welcome the change, as I prefer this so much more than the usual goofy witty charm that is the voice of Ruby.
Cady, the main character and the narrator, is weird. In a good way - that she loves books, that she does not always fit in. I love all the characters, flawed and all, and especially the Liars. I grow to learn and love them through Cady's eyes, and each is alive in my mind - their personalities deviate so much from the usual cliches in a way that makes me admire the author even more.
The suspense is there from the very beginning. Although we can sense that something is very wrong, we don't really know what that is. I can guess the ending from the middle of the book, but even that doesn't mean I'm a hundred percent right. When we get to the truth, I hardly feel justified, only that my worse nightmare is coming true. I can't take my eyes off the pages and just keep reading in a fetal position, feeling extremely sad once it's over. It makes readers feel so much, from the tragedy, a mixture of sadness, longing and everything else.
I'm not going to say the book's perfect, but it draws me in and I love most things about it. I love the mystery, the character, the plot. I even love the big twist although it makes me ache.
Suggestions for reading this book: don't read the reviews, avoid spoilers because they're the essence of the book, and prepare to weep.
E Lockhart rocks. It makes me want to read Frankie Landau - is it any good?