Baru hari ketiga, tapi udah hampir absen dan bolos satu entry. dan edisi hari ini nggak pake (s) alias plural alias banyak. Hari ini temanya: satu TV program favorit.
I'm thinking of a lot of programs, from the silly ones and cartoons like Upin and Ipin (love!), Doraemon, Dexter's Laboratory, Sailor Moon.. TV quizzes as Who wants to be a millionnaire, Family 100 (old times!).. and dramas like Sex and the City, House, Lipstick Jungle.
Tapi kayaknya hari ini saya hanya mau membahas satu:
America's Next Top Model.
Kenapa?
It's fun! Nonton remaja-remaja berlomba-lomba jadi model, catfights and arguments, photoshoots, challenges.. Saya paling suka proses pemotretannya, dan waktu judging di mana kita bisa melihat hasil pemotretannya. Saat photoshoot mungkin terlihat sulit, tapi hasilnya kelihatan flawless. Dan sebaliknya.
And we're never sure who's gonna win. That's the best part.
Biasanya saya akan punya favorit di setiap season. Belakangan, kandidat favorit saya di season 13, Nicole Fox, menang menjadi petite model Amerika yang pertama. Dan lucunya, biasa favorit saya selalu masuk setidaknya Top 5 atau Top 2.. misalnya Natasha Galkina, Marjorie Conrad, Chantal Jones..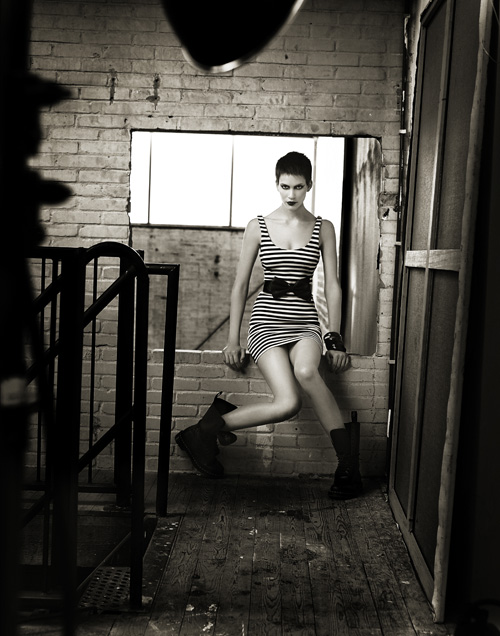 Marjorie


Season pertama yang saya tonton kalau nggak salah adalah season 6 atau 7.. I'm not exactly sure. Pemenangnya adalah Caridee English, dengan Melrose di posisi kedua, dan si kembar Michelle dan Amanda. Konsep pemotretannya high fashion, semua kontestannya berbakat, dan konflik 'domestik'nya juga berasa.
Sejak saat itu saya menonton back to back episodes-nya di YouTube. Agak kecewa juga karena belakangan episode-nya semakin membosankan, dan kadang ada kesan judge favoritism seperti pada gadis Asia (yang sampai sekarang belum pernah menang ANTM), plus-sized model (Whitney, misalnya, yang menang walau menurut saya season ini kontestan Top 5-nya nggak menarik), dan beberapa orang yang seharusnya lanjut tapi tereliminasi.
Tapi sejauh ini saya menilai para judge, terutama Tyra, cukup fair. I love her concepts, and even though she and the rest of the judges can get so quirky and corny sometimes.. it's in a good way.
And till today, watching the final runway never fails to give me goosebumps.