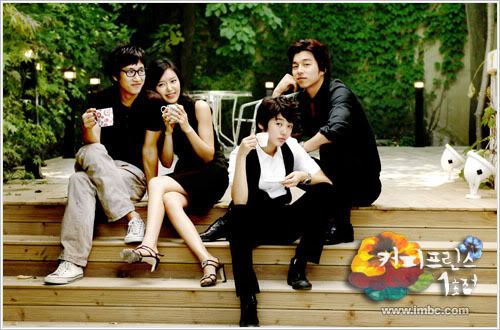 This must be my current addiction right now - watching the K-drama series and listening to the OST. At first I bought it since I wanted to see Gong Yoo and Yoon Eun Hye. They are a strange couple somehow, but as I watch more, it dawns to me that they really have chemistry. Whenever I see her cling to him and hugs him, it seems that she is really happy to be doing it :) it's so sweet.
Coffee Prince is about a tough tomboyish woman Go Eun Chan, who has to do hard jobs every day (delivering milk, skinning cashews
and chesnuts, teaching a Taekwondo class, sewing doll's eyes, delivering noodles) in order for her family to survive. One day she meets Choi Han Kyul, an adopted son of a rich family who is in his thirties and has not found a single thing he likes to do. Han Kyul thinks she is a man so he uses her to solve his blind dates that his grandmother sets up for him. In the end Han Kyul has to manage a coffee shop and employs Eun Chan and several other men. He begins to love her, but he questions his sexuality and thinks he's gay. Eun Chan cannot reveal the truth in fear of getting fired.
The plot is nicely structured, although a little illogical on the boy-girl pretending side, but it's
amusing and highly refreshing. I like this kind of light drama - funny and easy but meaningful. I personally like the story of Yoo Joo and Han Seong (Han Kyul's cousin) best. They have survived 9 years together until she leaves him, and then comes back, but Han Seong is tempted to fall in love with Eun Chan. I like how the story progresses, I like how their chemistries just blend together, I like the newcomers all acting so naturally. I even like every single character, it's like they're each made for the roles.
Simple questions of life being put forth here: love, life, career, surviving, broken hearts, deceits, and family. I really really like this drama.